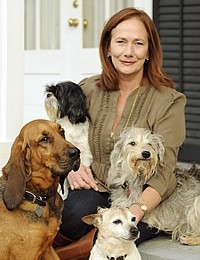 Practice Owner
Dr. Ednadeen Corley grew up on a southern Louisiana farm, where her family kept livestock, chickens, ducks, dogs, cats, and even the occasional wild animal. One day, young Dr. Corley found one of her lambs terribly sick in the barn. The feeling of helplessness that she had while waiting for the veterinarian to arrive is something that Dr. Corley never forgot—from that moment on, she knew she was destined to work in the animal care field herself!
Dr. Corley attended Louisiana State University for both her undergraduate studies in medical technology and her veterinary degree. After graduating, she started working in a small-animal practice in Baton Rouge while her husband finished veterinary school.
Upon moving to Lafayette in 1980, Dr. Corley opened her own clinic in Carencro and has been practicing high-quality animal medicine here ever since.Dr. Corley's favorite part of veterinary medicine is the pet owners that she gets to work with on a daily basis.
Medically, she's fond of soft-tissue surgery and complex health cases; after 36 years as a veterinary professional, she can still see things that she's never encountered before! Dr. Corley also enjoys mentoring the younger veterinarians here at the hospital and helping them to thrive in their professional lives.
Dr. Corley has been married to her husband, Dr. James "Sonny" Corley, for 35 years. They have two grown children: Margaret, who works in Baton Rouge as a state Senate attorney, and Ben, who lives with his wife in northern California and heads up an equine ministry. The Corleys now share their home with four loveable dogs.
Lucy is an elderly Jack Russell who is completely deaf; Huey is a mutt who was adopted from the clinic many years ago; Gladys the bloodhound was relinquished to the clinic and now serves as the resident blood donor; and Prissy is a Shih Tzu who enjoys sleeping in Dr. Corley's bed whenever she has the chance.
When she isn't spending time with her family and animals or tending to the needs of Lafayette's pets here at the clinic, Dr. Corley enjoys gardening, sewing, knitting, and fishing.