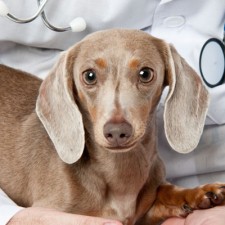 Your dog Dakota thinks very highly of himself. This four-year-old golden retriever takes pride in his appearance, insisting on daily brushing sessions and regular grooming appointments. After all, he must keep his gorgeous reddish coat trimmed to perfection.
Dakota also lavishes attention on his physique, toning up with regular dog park runs and neighborhood trots. However, his normally white teeth are looking slightly yellow, indicating the need for professional maintenance. Tomorrow, your Opelousas veterinarian will give your dog's choppers a complete dental exam and cleaning.
Convenient Scheduling
Dakota's cleaning appointment easily fits with your daily schedule. You'll take him to the veterinary clinic shortly after opening time. He'll receive his dental exam and cleaning sometime during the day. You'll pick up your dog (and his whiter teeth) later that afternoon.
Pre-Cleaning Checkup
First, the vet will obtain a picture of Dakota's overall dental health. He'll closely examine your dog's teeth and gums, and will study his dental history. Treatment records from other hospitals are also useful.
With luck, your companion's choppers will merely show plaque and tartar buildup. The vet might also observe gingivitis or bone loss around one or more teeth. If so, your pooch will receive a regular dental cleaning. If the vet identifies other potential problems, he'll consult you before addressing them.
Since your dog will receive anesthesia for the cleaning, the vet will review his health status before work begins. A pre-procedure blood sample provides valuable data.
Cleaning and Polishing
After Dakota drifts off into dreamland, the vet will begin his work. Throughout the cleaning, a veterinary technician will carefully monitor your canine housemate's vital signs.
The vet starts by examining your dog's teeth and gums, requesting x-rays for potential problem areas.
Next, he'll methodically clean each tooth, removing harmful plaque and tartar with dental scalers. Finally, your lucky pooch will receive a polishing treatment, designed to smooth out his tooth surfaces and discourage debris accumulation.
Home Dental Care
To keep Dakota's choppers gleaming, the vet will teach you how to safely brush them. Always use a doggie toothpaste, as his system won't tolerate human paste well. Ask about dental rinses and/or chews.
With regular dental checkups and cleanings, plus consistent home brushing sessions, Dakota will continue to keep his brilliant white smile. To improve your dog's dental health, contact your Opelousas veterinarian for expert assistance.