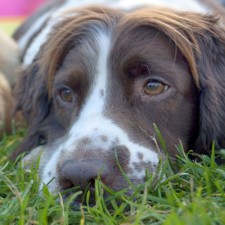 Your Labrador retriever Toby's appetite is legendary. This four-year-old canine housemate has broken many regional speed-eating records, often gobbling up his kibbles faster than larger dogs. At home, he inhales his food in two minutes flat, and then noses around the cat's bowl for scraps.
You've even seen him scarf a plate of cookies from the kitchen counter. Recently, however, your ravenous pooch has merely been toying with his meals before forcing down a few bites. You're worried that he's lacking nutrition; and you're concerned about a developing medical condition.
Tomorrow, Toby has an appointment at your St. Landry Parish pet clinic. The vet will give your canine companion a physical exam and expert nutritional counseling.
Unappealing Kibbles
Your spoiled-rotten dog has always received the highest-quality diet available. With your frequently changing schedule, though, you might have missed the latest bag's expiration date. Maybe the food has become stale, or even rancid. Either way, your pampered pooch isn't consuming those poor-quality kibbles.
Over-the-Top Treats
Toby's on a never-ending quest for treats. During regular walks and dog park visits, he pesters his canine buddies' pet parents. At the farmer's market, he lurks in the food vendors' aisle, pitifully pleading for handouts. Although he has enjoyed great results, his success has a price: he has gained several pounds from the excess calories.
Painful Dental Malady
Maybe your dog has been victimized by an uncomfortable dental problem. Since crunching kibbles makes his mouth feel worse, he's minimizing his discomfort by eating very little. You might see the culprit, such as mouth or facial sores, injured teeth, or a foreign object. Don't attempt to force his mouth open, as he won't tolerate it and might become annoyed. Take him to your vet, who can safely diagnose the problem and provide treatment. Once your canine housemate feels better, his appetite should come back.
Jazzed-Up Food
Make Toby's kibbles so delicious he can't wait to eat them. Spritz the contents with warm water, creating that tempting taste and smell that dogs love. If your St. Landry Parish pet clinic approves, mix in warmed canned food. Make sure you don't burn your dog's delicate mouth.
After Toby's appetite returns, allow him to chow down without interruptions. Offer plenty of praise after he empties his bowl. If your dog isn't interested in food, contact us for expert assistance.