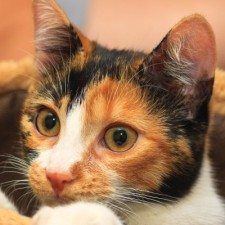 You're excited to be joining the ranks of happy cat owners. Tomorrow, you'll bring home Trixie, a charming calico cat you met at your town's animal shelter. You've already bought her a plush bed, rhinestone collar, and all the cat toys she could possibly handle. You've also scheduled a new patient appointment with your veterinarian.
The vet will provide her with a thorough exam and prescribe a quality life-stage diet. However, you're still mulling over the cat litter question. With many choices on the market, you'll do your research before making a decision. Even better, your vet might recommend a specific formulation for Trixie's needs.
Granulated Clay Litter
Granulated clay litter has been around for decades. Inspired by absorbent clay that soaked up industrial spills, this traditional substance directs Trixie's urine to the litter box floor. Although this formulation controls the urine-based ammonia smell reasonably well, the odor returns within a week.
Removing your cat's solid deposits daily helps to control the stench. By replacing the litter weekly, you'll keep the box as fresh as possible. Or, use a minimal amount of litter and completely replace it daily.
Clumping Cat Litter
Super-absorbent clumping cat litter enables you to keep Trixie's litter box smelling fresher for an extended period. Each time she urinates, the urine sticks to the litter granules, forming a removable clump. When you remove the clump, the urine odor vanishes.
If Trixie's your only feline companion, a boxful of clumping litter should be effective for several weeks. With multiple cats, however, plan to replace the litter in less than one month.
Pricey clumping litter is available in several custom formulations. Choose from less-tracking, multiple-cat, and flushable types. Keep an eye on the market, as manufacturers frequently introduce new cat litter varieties.
More Feline Litter Formulations
Perhaps you'd like Trixie to leave a minimal footprint on the environment. Consider an eco-friendly litter made from peanut shell meal, corn cobs, recycled newspaper, pine sawdust/shavings, silica gel beads/crystals, or processed orange peel. Each substance claims to control odor, last longer, and be environmentally friendly. Add a self-cleaning litter box to minimize your maintenance.
When Trixie next visits your veterinarian for a checkup, share your litter box experiences. Learn what substances other pampered cats prefer to scratch through daily. If you have further questions, contact your vet for expert advice.