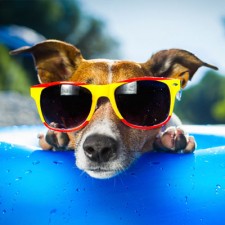 Do you celebrate your dog's birthday? Many dog owners like to mark the day of their canine buddies' anniversary with special treats or even gifts. After all, Fido is family! You may not know your dog's actual birthday, but you likely have a record of the day he came into your home.
Doggy treats and toys are always appropriate for your canine pal's birthday, and are definitely recommended, but there are plenty of other options. In this article, your local veterinarian offers some fun ways to celebrate your four-legged friend's special day.
Homemade Treats
Chances are, your canine pal absolutely loves treats. Why not make him some special ones? There are lots of recipes available online for yummy snacks you can make your dog. Birthday cakes, 'pupcakes', and special doggy snacks can all be customized to suit your furry pal's individual taste.
Pictures
We love the idea of taking a picture of your pup each year on his birthday, and adding them to a special album. It's a great way to celebrate your canine friend's life!
Pool Fun
Does your dog's birthday fall in summer? Why not get Fido a little wading pool of his own? If your pooch hates getting wet, maybe get him a fetch machine instead.
Doghouse
If you have room in the yard, get Fido a little outdoor doggy home to provide shelter and a comfy retreat for him outside. A word of advice: Fido will be much living happier inside with his human family, so we don't recommend keeping him outdoors permanently.
Special Outings
Why not take Fido to a doggy café? Dog-friendly bistros and cafes are popping up all over the place. Many of these businesses have 'doggy menus' that are filled with yummy treats your pooch will love. Another great option is to look up a dog beach or dog park you haven't been to, and take Fido on a little day trip.
Puppy Party
Invite some of your animal-loving friends over for a pot luck or barbeque, and stock up on plenty of treats. Have everyone give Fido small tidbits, and take turns playing with your pooch and giving out ear scratches and belly rubs.
Do you have any questions about your dog's health, care, or behavior? Contact us anytime! As your local vet clinic, we are here to provide the best veterinary services possible!